What is gel printing, anyway?
Gel printing is an easy and fun process to make interesting prints, backgrounds and collage papers.
With gel printing, you get unique and surprising images more often than not.
Beginner friendly, gel printing is easy to start and has tons of possibility, and will keep you engaged for years!
Join me as I walk you through the basics of gel printing!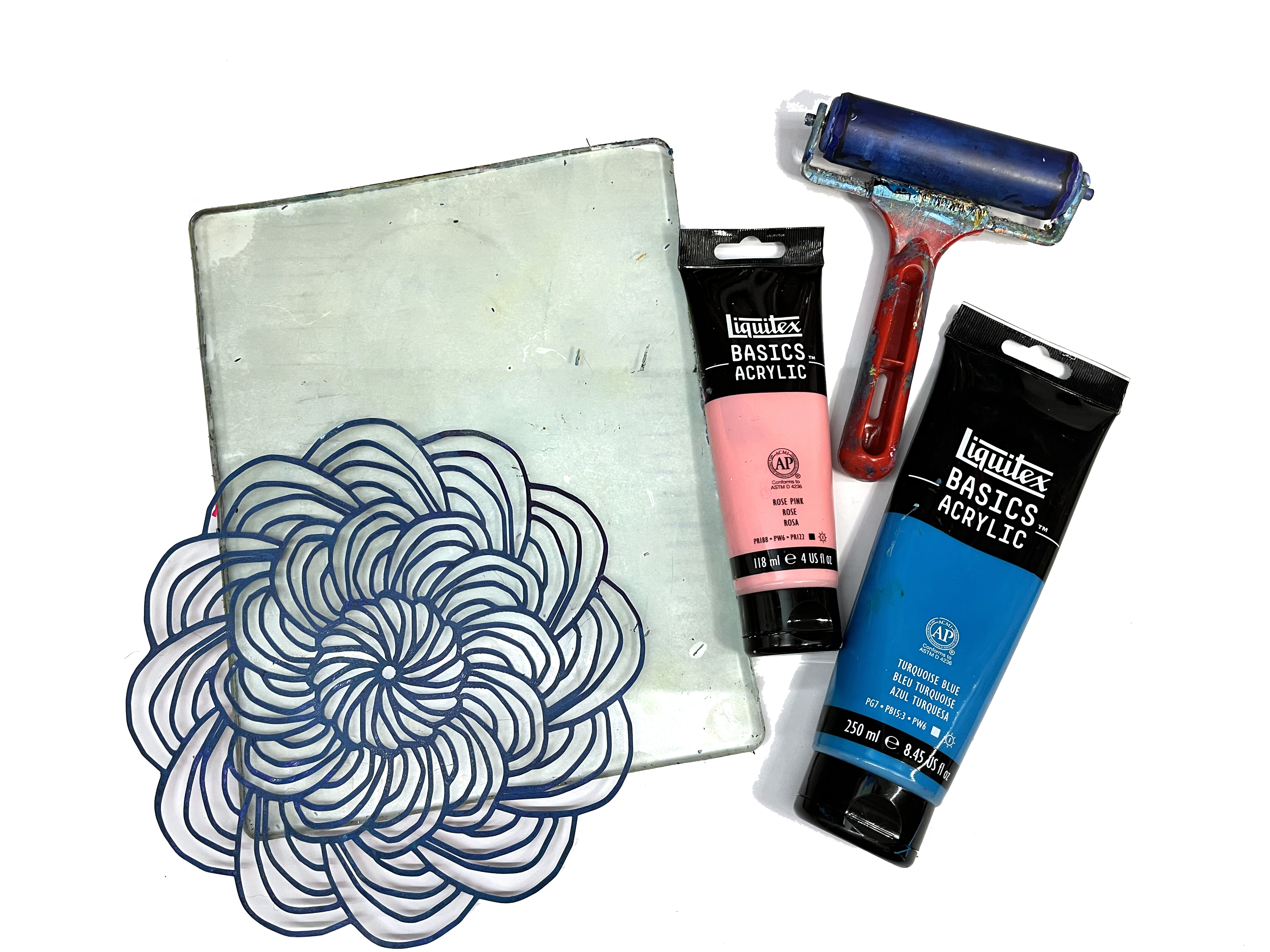 From learning about tools and materials to how to fix ugly prints, this class will provide you with the knowhow you need to create beautiful, vibrant gel prints from the heart.
In this 4 week introductory course, we will talk about tools and techniques, and color and transparency. I will show you how to make your own unique stencils and stamps, and explain in detail different methods of pulling prints so that you get the beautiful results you desire!
With clear, real time video demonstrations (filmed overhead for the best view!), stencil pattern downloads, and high instructor involvement, there's no reason you shouldn't be well on your way to becoming a gel printing queen!
Stencil patterns (both printables and svg cut files)
Live Q & A call to ask questions
Private Facebook group - Ask questions, share your work, interact with other students!
High Instructor Involvement
The opportunity to help me build and develop the course as we go
Lower price point because this is the course debut
Lifetime Access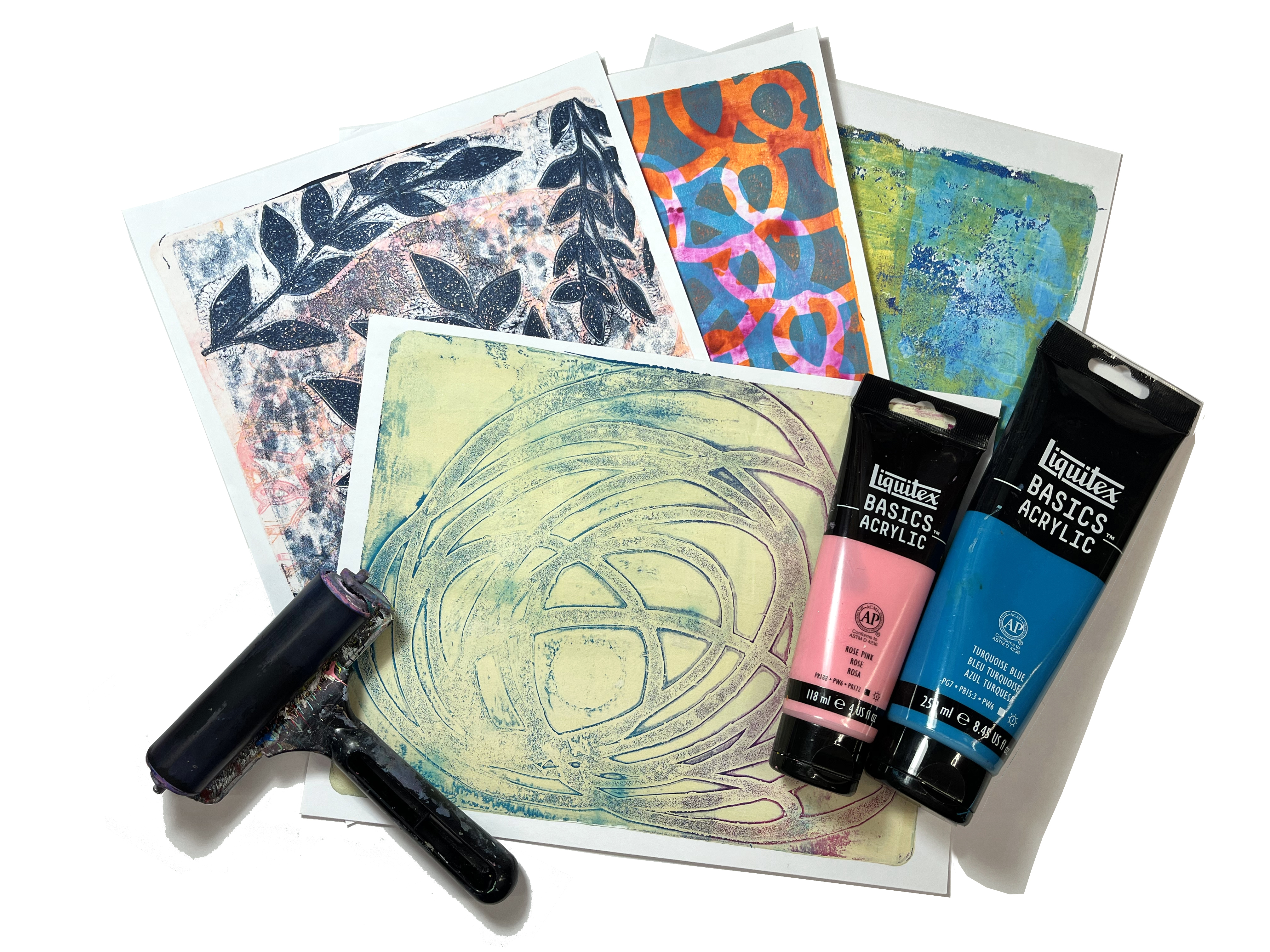 Become more confident in your art-making!
Express yourself!
Add a new technique to your arsenal!
Understand techniques to be able to get what you envision, rather than a "happy accident!"
Learn color theory to make harmonious prints!
Make new artwork for your home!
Impress your friends and family with your new art-making skills!
Hi! I'm Jen.
I'm a Canadian mixed media artist, specializing in Intuitive Printmaking using acrylic paints on a gel plate.
My work is instantly recognizable by its use of bright, bold color.
I hold an MFA from the University of Waterloo and a BFA from the Alberta College of Art + Design.
I have exhibited extensively, at venues such as Pier 21, the Esker Foundation, the Niagara Artists Centre, Inter/Access, the Art Gallery of Calgary and Stride Gallery.
I currently live and work in Toronto, Ontario, Canada.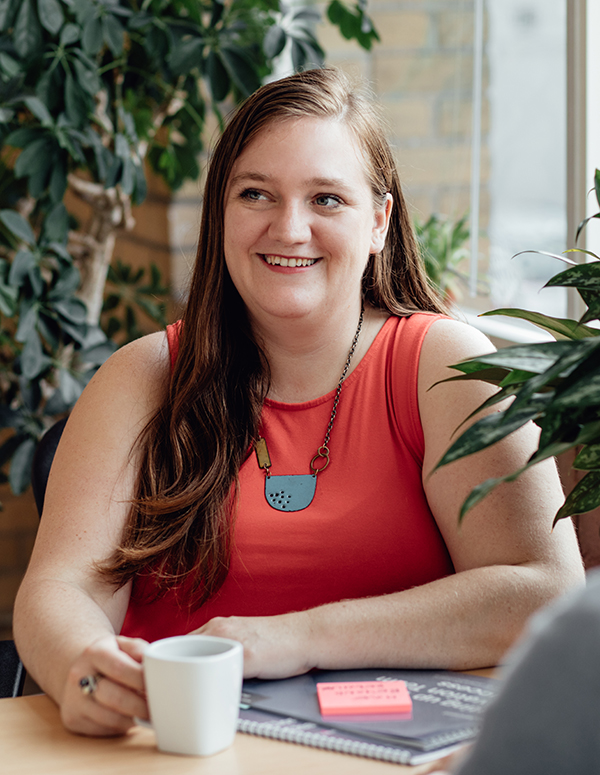 By the end of this class, you will
Know how to gel print with intention
Be confident in your color choices
Have developed a visual language, having created a selection of your own motifs through making your own stencils and stamps
Be able to save bad prints
Be able to trouble shoot issues to get better prints
Understand what's happening on the plate and know how to react to it
Have a brand new stash of completed prints that are strong enough to stand on their own (frame them!) and a never ending supply of hand printed collage papers to use in your art journal or other artworks.
Have developed a new found confidence with gel printing - and probably an addiction!
FAQ
How long will I have access to the course?
You have unlimited lifetime access, compatible with all internet enabled devices. You will only be charged once.
How is the course taught? Can I go at my own pace?
Yes! I will release new content each of the four weeks. It will be pre-recorded video, so you can watch whenever you like. You can pause and rewind, no problem. However, as this is the class debut, I am looking for your help in building the content and will be asking for feedback and making tweaks as we go, so it might be more fun to try to view the content and do the exercises every week so we can take the journey together.
What if I have questions?
You can ask questions in the comments below every lesson, and I will answer them. There will also be a private facebook group, where you can interact with others taking the class. If you have any questions or problems with the platform or billing, you can email me at [email protected].
Do you have a refund policy?
Yes! Full money back guarantee if you contact me within two weeks (15 days) of purchase and have watched less than 50% of the content.
Who is this class for?
People who want to start gel printing, or improve their gel prints. This class is great for beginners and hobbyists looking to improve their work or try something new.
What do I need for supplies?
You need a few things for sure, but you can get them on Amazon pretty quickly. The supply list is already available and public . Most of what you need you can probably find at home.


How long do I have to get supplies?
The course will start a week after enrollment closes, so you have lots of time. The supply list is already posted.
Do I need to use expensive paint?
No, not at all. I use Liquitex Basics, a line of acrylic paint that has a good balance of affordability and quality. They are permanent, lightfast, and come in many colors and mix well. You can also use dollar store or craft paint to start, but it's likely not lightfast and will behave differently with every color, even within brands. I would start with whatever you have, and you can always upgrade. We will talk about paint in the class. I've also listed a starter paint selection on the supply list.
Is there a Facebook group?
Yes, the facebook group is for discussions among students, sharing work, tips and trick and asking questions. I hope you will participate!
Do I need any prior artmaking experience? I've never done any printmaking before - can I attend?
Yes! This class is for beginners, and gel printing is an easy and fun method of printmaking that you can do at home. It's printmaking without a press!
I can't draw a stick figure. Is this class good for me?
Good news - you don't have to! (Honestly, I kind of hate drawing too.) If you're afraid of making your own designs, there are pre-designed stencils you can start with. But I know you'll be making your own designs pretty quickly!
How does the class work?
You will get access to new content once a week for 4 weeks. Each week, I will ask for feedback, which is a great opportunity for you to ask questions and actually help me develop the class. I also encourage you to post your work and questions in the Facebook group.
When can I enroll in the class? When will you open up the program again?
The next enrollment period will open soon. The registration information will be emailed to those on the waitlist. Sign up below to make sure you don't miss it!
Check your inbox to confirm your subscription